Everything you need to know about EDELHOLZ multilayer floorings
In our consciously composed collection presenting a wide range of floors, we not only offer different types of wooden floor coverings - such as straight planks, herringbone parquets, chevrons or chateau planks - but also provide special structural solutions for our customers.
Perhaps not many people know, but for a given type of floor it has a great importance whether it is combined with solid, three-layer or two-layer structure.
Same premium quality raw material, different structural solutions
Each plank of our wooden floors is made of the finest, 100% Hungarian oak from sustainably managed forests - with the exception of premium ash wood products, the raw material of which also derives from responsible forest managements. With its extraordinary durability and excellent physical properties, this noble type of wood has been serving our satisfied customers for generations, yet, in addition to tradition, we also need the help of modern technologies to meet the requirements of the contemporary design world. The needs of modern interiors are exactly the reason why we have developed three types of our engineered wood floors, the most special and practical of which is the Triplex flooring. But about this a little later, let's see first what is the fundamental difference between the three types of wood flooring: solidwood, Duplex and Triplex.
Short introduction into the world of engineered floorings
Solid wood flooring
The solid wood, one-layer flooring with classical structure is the result of traditional production technology. We recommend this type of floor covering for those who prefer time-honoured solutions.
Duplex wooden flooring
Duplex is a two-layer wooden floor that is extremely thin in design and can provide a quality solution for extremely low installation heights.
Triplex wooden flooring
The Triplex wooden floor has three layers, and it can also be made in the form of herringbone parquet, chevron or straight plank. Thanks to the unique manufacturing technology, the Triplex flooring stands out with the especially strong structure, and counts as the best choice for underfloor heating.
Triplex wooden floors - a complex, practical solution
All in all, if we want to make a good and quick decision, we can confidently say that due to its complexity, the Triplex wood flooring is right for us. The structure of the three-layer Triplex floors has been specially designed to be as flexible as possible – in addition to this comes the significant tensile strength. Only solid oak is used to form the layers of the wooden floor, as a result of which the planks will be particularly durable and resistant to temperature fluctuations and changes in humidity. Thanks in part to this and the excellent thermal conductivity of oak, Triplex wood flooring is the best choice if you want to install it in on hot water based underfloor heating.
Another great advantage of Triplex wooden floorings is that, due to their layer order and structural technology, their material thickness is very low, it does not exceed 14 millimetres, which can be especially useful in cases where the subfloor does not allow the installation of the thicker solid wood flooring.
Where to choose solid wood floors?
If a practical, well-designed wood flooring like Triplex is available, why would we need solid wood floor? The answer is simple. We don't always need this type of wood flooring, yet, there are special situations where we can't choose any other alternative. Solid wood floors provide an excellent solution for the renovation and restoration of historic interiors. If we think about it, fortunately there are a large number of historic monuments in Hungary, where regulations or traditions require solid wood floors.
We at EDELHOLZ are proud to have the possibility of taking part in serious, large-scale monument reconstructions.
Which cases require Duplex wooden flooring?
Duplex wood flooring is a very special solution we have developed for a new problem. It is an increasingly common phenomenon that in newly built residential parks the subfloor no longer allows the installation of wooden floors. Therefore, in accordance with the feedback and requests of our customers, we have designed our Duplex flooring. This two-layer wooden floor, just like our Triplex planks, is completely made of oak, yet it is particularly thin due to its reduced number of layers.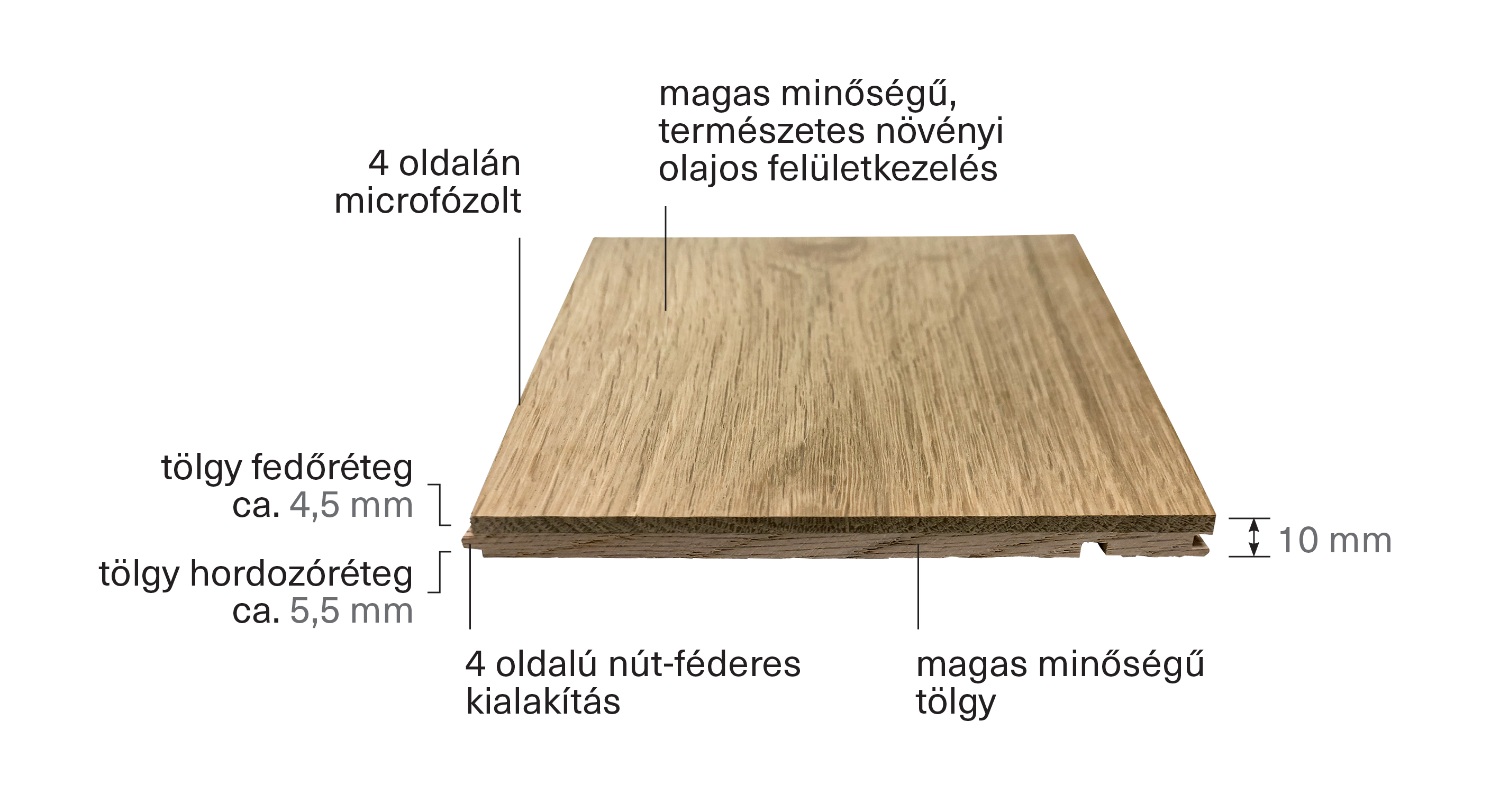 Which wood flooring is the most ideal choice for us?
Choosing the right wood floor is no longer so difficult in the possession of the information given above. However, before making a final decision, it is worth considering once more the exact requirements the wooden floor should meet in your home, whether there are unusual, special conditions, or whether it is better to opt for the practical Triplex planks, the safest wooden floor.
Our expert colleagues are ready to answer the questions of all our precious customers in matters related to our multilayer products. We are waiting for you in our showrooms with large variety of colour and surface patterns, however, given the extraordinary complexity of our collection, we recommend that you book an appointment and let our colleagues guide you through the special world of natural wooden floors.