The world of Triplex wood flooring – wood flooring with three-layer structure
The special feature of Triplex wooden floors is the 3-layer oak construction. The Triplex planks stand out with an extremely strong structure due to the unique manufacturing technology and the use of quality oak in all layers. Thanks to the structure made of oak wood in all three layers, the width of Triplex wooden floors can reach up to 24 cm, as the three layers provide a more flexible construction for the floor.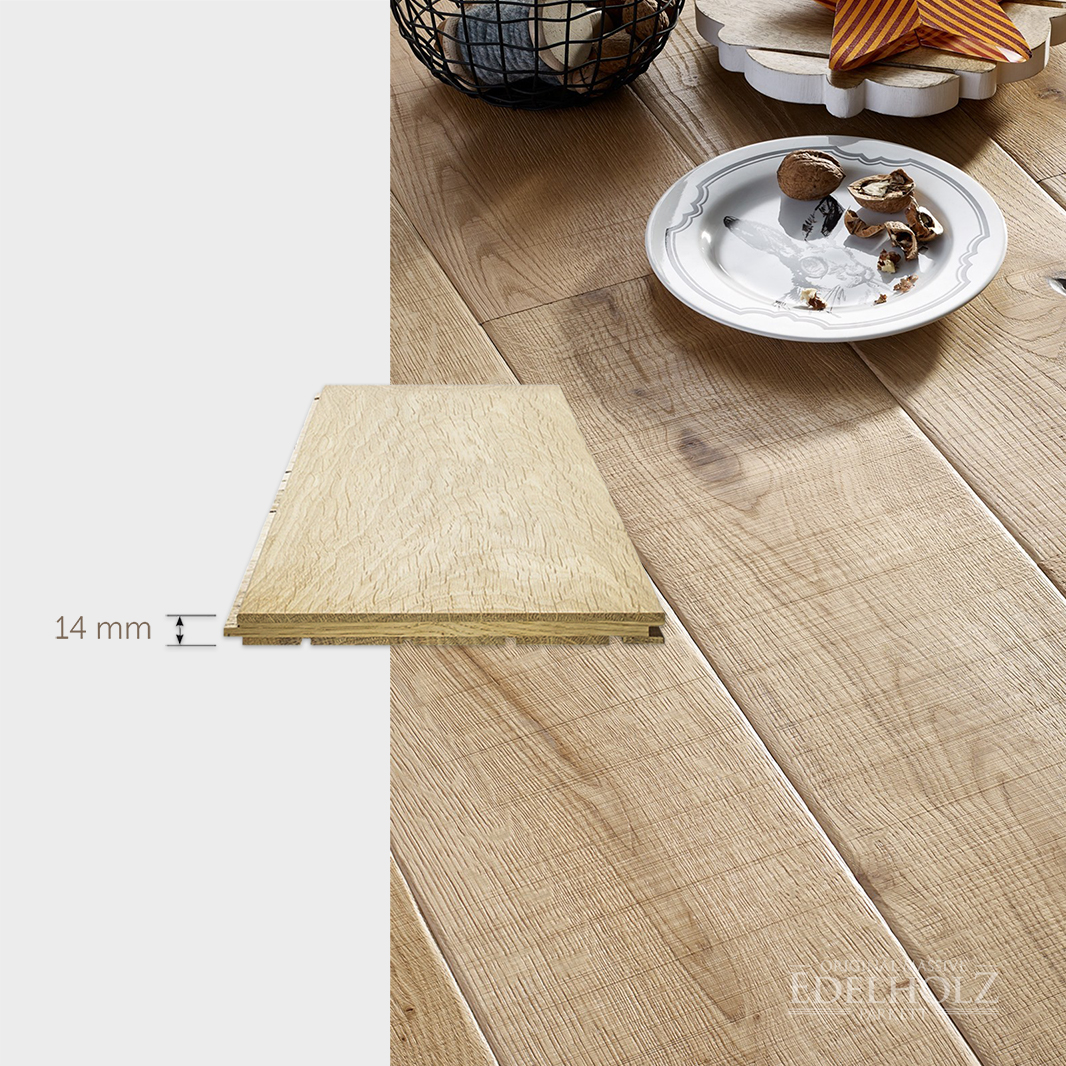 Triplex oak wood flooring with excellent thermal conductivity
How can Triplex wood floor be a good conductor of heat and why is it good for us? Both oak and other solid wood species, due to their structure, transmit heat well, in contrast to soft wood species like pine. If the cold of winter comes to our mind, this property could even be a disadvantage, as oak is not a good thermal insulator, but if we think it over, this attribute is invaluable in the case of underfloor heating!
Triplex wooden floor for hot water based underfloor heating!
One of the most common questions about our wooden floors is whether they can be installed on underfloor heating. Well, as mentioned above, we have good news on this topic! Our Triplex wooden floors are especially recommended for underfloor heating, as the solid oak used in all three layers, as already described, is highlighted with extremely good thermal conductivity. But this is not the only advantage of Triplex wood flooring regarding hot water based underfloor heating…
Flexibility, high tensile strength – the specialty of Triplex wooden flooring
Since all three layers of Triplex wood flooring are made of solid oak, the physical properties of the layers are perfectly the same. This is especially advantageous in the case of frequent fluctuations in temperature and humidity, which is common in case of underfloor heating. Each layer of the Triplex wooden floor moves perfectly together with the others, and due to their identical properties, they never lose their stability. Thanks to this, our Triplex wooden floors have almost the attributes of solidwood. Why almost? Because, this three-layer structure is actually stronger and more flexible than a solidwood floor.
Triplex wood flooring - an ideal choice without compromise
If you choose Triplex wood flooring, you can design your home without compromise. Firstly, it can be installed on hot water based underfloor heating, and secondly, its material thickness does not exceed 14 millimetres. In addition to this, almost all surface models in our collection are available with Triplex structure, so there is no need to put barriers in the way of creativity when designing the home of your dreams.